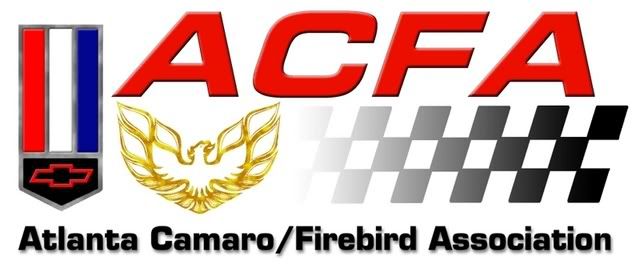 Welcome to the Atlanta Camaro and Firebird Association. We hope you log on to our Facebook site and say hello.
This is how we roll................
You're the member and not your car

is the mantra of all good car clubs and the ACFA.



Support the community and local charities.

Each year since 1999 we have had a car show centered on or about Veterans Day. We have given money to the WW.II Memorial and donated over $10,000 to the USO at the Atlanta Hartsfield-Jackson International Airport.



ACFA does things that families can participate in!

No matter what the event is, it should be family friendly. There is nothing better than feeling your family looks forward to the car club events as much as you do.



Be inclusive, not exclusive.

Underneath primer and a bad bondo job there is a car that is admired by it's owner. Our fellow members take sincere interest in the unique qualities of each others car without being haughty or condescending and want everyone to feel wanted and accepted.